Jersey rock fall road 'closed for weeks'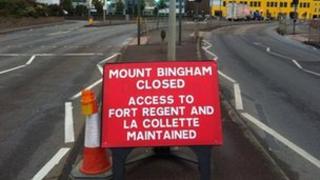 Further traffic delays are expected in Jersey's capital St Helier after a rock fall closed a road on Sunday.
An expert brought over by the Transport Department declared the area unsafe and said the road should remain closed.
A spokesman for the department said it was likely to be weeks before the road around Mount Bingham would re-open.
"Motorists are advised to find alternative routes if at all possible and leave more time for their journeys," the spokesman said.
Existing roadworks on South Hill meant traffic could not use that route instead.
That added to the tailbacks both sides of the other main route through the tunnel.
Bob Baudins from the Transport Department said they needed to be certain there was no risk of more rocks falling.