Jersey street pastors hunt for volunteers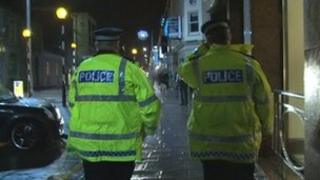 A street pastor service in Jersey could expand in the future if it recruits more volunteers, the group says.
The Christian group started with just eight volunteers and now has 20. It is hoping to recruit more helpers in the next few months.
The volunteer group offers emotional and practical support to people socialising in St Helier, and Saturday night saw its 200th patrol.
Volunteer Marsha Lee said there were a number of ideas for expansion.
'Patrolling town'
She said: "We do have a vision for a safe space, maybe a mobile unit we could park on the Weighbridge where people know they can find street pastors.
"We do patrol town, visiting all the different clubs, and we can meet people there, but if you happen to be in town knowing where you can find us could be useful."
In the four years since it started the group has removed nearly 8,000 bottles, glasses and bits of broken glass from the streets.
Ms Lee said it had also given out more than 1,000 pairs of flip-flops to females struggling to get home in high heels.
States of Jersey Police Supt Rob Bastable said the group had helped to make Jersey a safer place.
He said: "They undergo rigorous training around conflict resolution and understanding how people behave when they have been drinking.
"They diffuse situations which is great for us as we are interested in keeping crime low and making sure St Helier is a place people can enjoy themselves."