Jersey's rogue chough pair rejoin the flock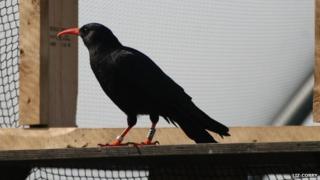 A pair of rare birds that left an aviary during a phased reintroduction to the wild release have returned.
Red-billed choughs have not thrived in Jersey for a century and are being reintroduced by an environmental group.
The aim was to allow the birds out for short periods to allow them to gradually adjust to the wild.
On the first release two birds left the flock and spent about a week living in a quarry before returning to the aviary last week.
The Birds on the Edge programme aims to restore the natural diversity of the north coast of the island.
Dr Glyn Young, leading the project, said the birds were born in captivity but hoped they would thrive in the island.
Flock of crows
He said after the pair had returned they decided to go back to the original plan of a phased release but not everything went to plan.
As the aviary was opened the birds left and were almost immediately approached by a flock of crows.
Dr Young said there seemed to be no aggression, "just mutual intrigue", but he still wanted to call them back early.
He said: "It would have meant they only had 15 minutes outside, but that was better than losing the group."
However, far from coming back, the birds had a plan and stuck to it.
"Whether the calling scared them or they ignored me, I will never know, but it certainly didn't change their flight pattern.
"Once over the valley they turned towards the cliffs and split up."
After a lot of whistling, the two birds that had previously escaped to the quarry in the first release came back.
The rain then started while Dr Glyn and his team were out searching for the other birds. When they got back a third bird had returned.
After a tense night the rest of the birds were found alive and well living in the quarry.
Dr Glyn said: "We can follow their movements thanks to the tracking equipment and are learning to spot their distant activities through binoculars and telescopes.
"It's surprising how many shadows, rabbit holes or dark rocks can suddenly look like birds from a distance."