Jersey uses ice age past 'to attract tourists'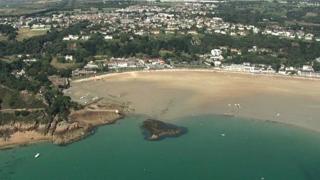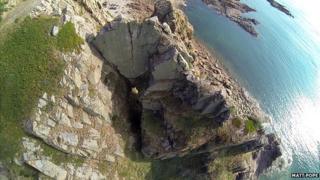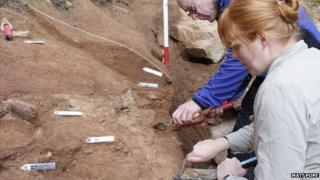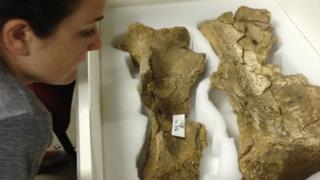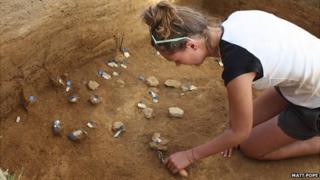 Jersey's rich ice age history is being used in an attempt to attract more tourists to the island.
"Jersey has a story to tell about human evolution relevant across Europe and the wider world," according to Dr Matt Pope, who is leading an archaeological team.
Previous work has uncovered hunting sites and submerged ice age landscapes ranging from the earliest occupation by Neanderthals more than 250,000 years ago, to the arrival of the first modern humans.
The creation of ice age walking trails around the island's coast has been done by Jersey Heritage in partnership with the archaeological team, Societe Jersiaise and the National Trust for Jersey.
It has been supported by a £199,000 grant from the Tourism Development Fund (TDF) to deliver Ice Age Island.
Peter Funk, chairman of the TDF panel, said: "There is a huge level of interest in archaeological discovery and Jersey has a unique story to tell which we believe will be an integral part of Jersey's tourism offering in the years to come."
One of the Ice Age Trails takes the walker from Ousiane to St Aubin. During the walk it passes the important Neanderthal site of La Cotte de St Brelade where 200,000 stone tools have been preserved in ice age sediments.
Jersey has an exceptionally rich record for the Stone Age considering the small size of its land mass.
The site of La Cotte de St Brelade contains more Neanderthal artefacts than the rest of the British Isles put together and ranks as one of the world's richest Stone Age localities.
The late ice age site investigated at Les Varines in St Saviour, is also exceptionally rich compared to sites of a similar age in the UK.
Both these sites have received national television and media coverage including Digging for Britain and Ice Age Giants.
Dr Pope, a senior research fellow of the Institute of Archaeology at University College London, heads a team undertaking a three-year study of the island's ice age past.
He said he was keen to bring Jersey's prehistoric past right up to date and make it relevant to current generations.
In July the team, along with archaeological students from around the world, extended their research areas to Petit Portlet near Mont Orgueil castle in Gorey and Col de la Rocque near Devil's Hole in St Mary.
Dr Pope said: "We have only begun to scratch the surface of Jersey's rich record of ice age hunters, climate change and extinct mammals such as the mammoth.
"This funding will help to take the story of Jersey's stunning coastal and deeply buried past to a new audience."
The Gorey to Fliquet trail, on the east coast of Jersey, starts below Mont Orgueil at Petit Portelet Bay where, in the 1930s, Neanderthal stone tools were found indicating this headland was an occupation site for hunter gatherers during a cold period when the sea was at a much lower level.
Jon Carter, Director of Jersey Heritage said: "Over the past three years we have identified a number of ice age locations in Jersey adding to the knowledge we had already gained from La Cotte, which is one of the most important sites in the world.
"We are heartened that the Tourism Development fund has seen both the current and potential future value of continuing this work.
"Jersey Heritage has now created, with the ice age team, a walking guide and a dedicated website to support the guide, which includes animated video introductions to each trail."
Dr Pope added: "We aim to bring understanding that can extend awareness of this incredible ice age archaeology to new audiences both across Europe and the wider world.
"For us the excitement comes not from how old and remote this archaeology is, but how immediate the lessons we can learn from it are in the 21st Century."