ITV Channel Television mascot Oscar Puffin dropped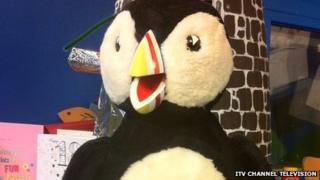 The last remaining ITV regional children's mascot is to disappear from television, ITV has confirmed.
Oscar Puffin has been on screen in the Channel Islands since 1963 but his last appearance will be on Sunday.
Karen Rankine, managing director of ITV Channel Television, said children watch programmes in a different way and so Oscar would move online.
Puppets used to play a large part in ITV continuity with a number using them during children's programming.
Viewers in the South West of England may have seen Gus Honeybun, a rabbit puppet, reading out birthday messages until 1991 and throughout the 1980s Anglia had BC, a leopard like puppet.
Mrs Rankine said: "Oscar continues to be a much loved character in our newsroom and he will remain our station mascot at the heart of our service.
"His move online is a natural progression as children's media consumption has changed and more and more youngsters are using computers and tablets to access content."
Channel Television were taken over by ITV Plc last year.