Jersey States 'should build' new school in west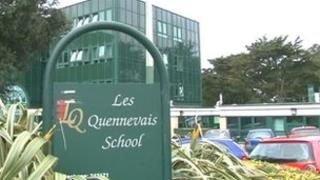 Jersey's government must make building a new school in St Brelade a priority, a former headteacher has said.
John Thorp, who retired this summer, said future pupils in the western parishes would be let down if there was not a change soon.
Education Minister Deputy Patrick Ryan said there were plans for a new building for Les Quennevais school.
He said the building, which opened in 1964, currently held about 200 more pupils than it was designed for.
Mr Thorp said the building was constrained by the size of its site and was hard to offer proper facilities for modern subjects such as technology.
Mr Thorp said it was already past its sell by date when he took over and desperately needs to be replaced.
He said: "If you look at the investment in young people across the island every other secondary school has had a rebuild. At Les Quennevais they tried a cheap option and it hasn't worked.
"Should you say to people in the west of the island, you live in the west of the island so therefore you are condemned for the next however many years to less good resources?"
Deputy Ryan told the States of Jersey there were plans to find another site in the west of the island to rebuild the school.
He said money had been previously put aside to develop the school on the current site but those plans were likely to change now a new site was being looked for.
St Brelade Deputy Montfort Tadier said he hoped there would be a concrete plan for the future of the school before the next States in 2014.