Channel Islands reject joint aircraft registry plan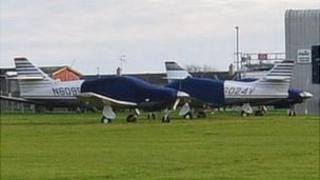 There will not be a Channel Islands aircraft registry, after the island governments failed to negotiate terms.
In a joint statement, the States of Guernsey and Jersey said a single registry could not meet the separate operational and commercial interests.
Senator Alan Maclean, Jersey Economic Development Minister, said both governments were still committed to joint working in other areas.
Each island will now look to launch its own aircraft registry.
'Joint working'
The statement said the two islands took independent legal advice before making a decision.
Mr Maclean said: "Our two governments remain committed to joint working, and we will continue to look for areas where we can work together to benefit Channel Island residents.
"For instance, a joint Financial Services Ombudsman Scheme, due to launch in early 2014."
Deputy Kevin Stewart, Guernsey Commerce and Employment Minister, said it was not possible to find a solution that suited the different financial service sectors in each island.
"A full range of options were explored but after lengthy consideration there was not one option that was workable and would provide the same mutual business benefits," he said.
"The result is that both islands will now be setting up separate registries in a growing global market place."