Jersey fresh food 'more expensive' than in UK, report says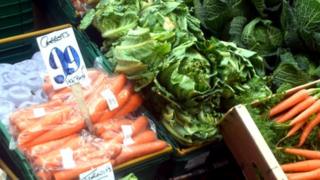 Fresh fruit, vegetables and meat are all more expensive in Jersey than the UK, according to the annual retail report by the States of Jersey.
Since June 2005, the price of fresh fruit has increased by 43% in Jersey and by 26% in the UK, the report fund.
It added fresh vegetables cost almost 30% more, while the average price of meat is about 16% higher.
Advocate Rose Colley from the Consumer Council said there was room for more competition in the island.
Mrs Colley said people should think about spending more money on local produce.
She said: "People should be buying things like fresh fruit and vegetables more locally and if people do it might have an effect on the price of local produce going down.
"We don't know from the statistics whether if you buy a cabbage locally rather than one wrapped up in a supermarket, the local one is cheaper.
"It is a concern to everyone but particularly people on low incomes where the price of vegetables can have a significant impact on their cost of living each week."
There were some surprises in the report, as it found white fish costs 20% more in Jersey compared with the UK but salmon is 3% cheaper.
The report, compiled by the States statistics unit, found baking was also an expensive pastime on the island with a 1.5kg bag of self raising flour costing 76p more in Jersey than the UK.
Retailer David Warr, former head of the Chamber of Commerce, said more should be done to help local shops.
He said: "What we tend to find in Jersey is the cheaper end of the market is relatively more expensive and will always be more expensive than the UK because of the freight costs."
The Channel Islands Competition and Regulatory Authorities has launched a consultation into the grocery market.
CICRA chief executive Andrew Riseley said consumers should not expect prices to fall as a direct result of the study.
He said: "There is a general perception that prices for groceries in the Channel Islands are too high. Our study will undertake a comprehensive comparison of prices for a range of groceries in Guernsey, Jersey, the UK and the Isle of Man.
"We intend to focus on investigating what causes differences in prices and to examine the extent to which these differences can be explained and justified."