Jersey parish assembly votes to challenge Plemont development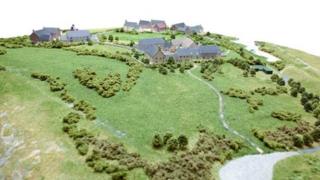 More than 100 people from St Ouen have voted in favour of challenging the Planning Minister's decision for homes at Plemont.
At a meeting on Tuesday, parishioners argued Deputy Rob Duhamel used unjustified reasons for accepting plans for 28 new homes on the site.
The group hopes its third-party appeal will be heard in the Royal Court.
Project architect Paul Harding said the potential delay was "immensely frustrating".
The plan, by owner Plemont Bay Estates, will see 28 homes built on the beauty spot with 80% of the site returned to nature.
A public inquiry was led by independent inspector Alan Langton in September 2012 over the application.
Mr Langton recommended it be approved with a number of conditions.
Although most parishioners voted in favour of challenging the decision, those against were worried parish rates would increase if they launched an appeal, while others argued it was not a parish issue but an island one.
At the parish hall assembly, 103 people voted in favour and 52 voted against.
Only residents of St Ouen could vote although other islanders came along to listen to the debate.
Mr Harding, from BDK Architects, said the vote might not be constitutionally correct and if such, it could be overturned.
He said: "Looking back at it in the cold light of day I think it was a classic St Ouen ambush where a small group of 100-odd die-hard campaigners took the rest of the parish hostage.
"I am concerned whether that was a truly democratic process."
Chief Minister Senator Ian Gorst wanted the States to buy the land and sell it to the National Trust for £3m.
Members voted against the plan 24 votes in favour to 25 against.
Celia Jeune, from the National Trust for Jersey, said at the time she was disappointed a natural site this important would not be restored to nature.