Hazardous chemical conviction a first for Jersey courts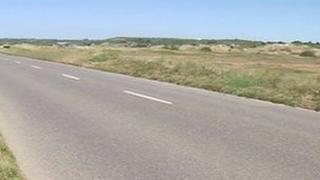 A man who admitted transporting drums of waste oil found dumped at St Ouen's Bay in Jersey has been fined £250.
Nigel Donnelly, 62, pleaded guilty to transporting hazardous waste without a licence and was fined by Judge Peter Harris at the magistrates' court.
It is the first time anyone has been charged under waste management legislation introduced in 2005.
A charge of fly tipping the drums, which were discovered in November, was dropped due to a lack of evidence.
Donnelly collected 10 drums containing waste oil and thinners from two garages in St Peter and transported them without permission.
The drums were discovered in November in car parks along Five Mile Road in St Ouen.
'Milestone'
The wetland area is considered to be one of the most environmentally sensitive in Jersey.
Deputy Rob Duhamel, the Planning and Environment Minister, said the conviction was the first under waste management legislation enacted in 2005.
"It marks a milestone in waste regulation," he said. "Business has to take the environment seriously and cannot ignore environmental law with impunity."
Donnelly claimed he had passed on the drums to two other people but he refused to name them.
Investigators are to review CCTV footage.
The Environmental Protection team is appealing to anyone who can remember seeing two vehicles - one of which was a LDV Sherpa van - parked in St Peter's Valley on or around 2 November last year, to get in touch.