Jersey offshore wind power project begins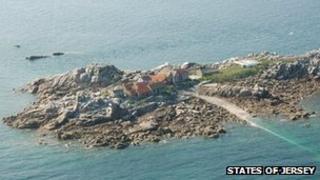 A mast for measuring wind power has been installed at Grand Rousse on the Ecrehous reef, off Jersey.
The automated weather station is due to be operational by the end of September and provide wind strength and direction updates to Jersey's Met Department.
The data from the three-year project will be used in planning potential renewable energy sources and to forecast the weather.
A second mast will be built once a bird colony has left the area.
Terns are currently nesting at the site at Les Maisons, about 6km from main island of the Minquiers, and work has been timed for once the young birds have fledged and left their nests.
The Met Department hopes to be able to publish the real time data online to allow mariners to check the wind conditions before they head out.
Tony Pallot, principal meteorological officer, said: "This is an exciting and important project that will provide a number of departments with accurate, up-to-date information, contribute to Jersey's long term planning for energy needs, and improve the information we can give the public about weather and sea conditions."