Jersey group reintroduces Red-Billed Chough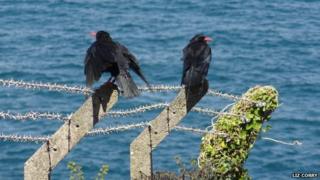 A species of bird that has not thrived in Jersey for a century is being reintroduced by an environmental group.
The Red-Billed Chough is a black, crow-like bird with a red beak and is the main species involved in a Jersey conservation project.
The Birds on the Edge programme aims to restore the natural diversity of the north coast of the island.
Dr Glyn Young, leading the project said the birds were born in captivity but hoped they would thrive in the island.
He said the aim was to allow the birds out for short periods to allow them to gradually adjust to the wild.
"On Friday two of the birds introduced themselves to the wild and have been living in the quarry in Ronez ever since. We have been monitoring them every waking hour and they are thriving.
"There was a heart-in-mouth moment when we watched a peregrine attack the pair but they recognised the threat and, in mid-air, on the longest flight of their lives fought it off.
"During the attack the falcon grabbed one of the chough pair by the legs but let go pretty quickly.
"One chough went to ground to avoid the persistent falcon but the pair were quickly re-united and seemed unfazed."
There were seven birds in total and Dr Young said he would continue with the slow release for the other five.