Jersey fire started by model plane crash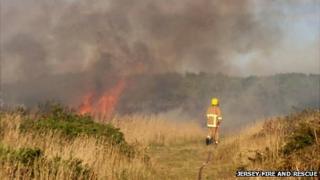 A fire in a Jersey conservation area was started by a model plane crash.
The blaze at Les Landes Common started at about 18:20 BST on Wednesday and spread across an area of furze covering about 1,500 sq m (16,000 sq ft).
Crew commander Terry Noel, from Jersey Fire and Rescue, said they had worked quickly to stop the blaze spreading or destroying eight nearby beehives.
In a statement, the Jersey Model Aero Club said it would be holding an investigation into the crash and fire.
The operators of the remote-controlled plane called the fire service after trying without success to put out the flames themselves.
The fenced-off, publicly-owned land is separated from the the air strip where enthusiasts fly their model planes by a track.
The statement said: "The club has robust safety rules and procedures concerning the operation of model aircraft in Jersey, and the aircraft was also subject to and operated in accordance with permissions granted by the Director of Civil Aviation for the Channel Islands.
"The club will now undertake its own internal investigation and review of safety protocols in light of this event.
"In the 53 years history of the club this is the first incident known to cause a fire."