Condor Channel Island ferry breaks down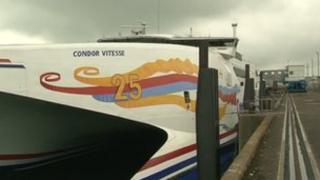 A ferry bound for Guernsey and Jersey broke down at the weekend, causing disruption for travellers to and from the islands.
On Sunday the Condor Vitesse was minutes out of Weymouth when the second of its four engines broke down.
Dozens of people had to transfer to Poole to continue their journey on a different ship.
Condor Chief Executive, James Fulford, said the Vitesse would be out of action for most of the week.
The passengers were sent to Poole more than 20 miles away where they took another ship delaying their travel by hours.
Later service
While the Vitesse is repaired in Weymouth, the Express will operate two services a day instead of one to Jersey, from Weymouth rather than Poole.
Mr Fulford said while the Vitesse is being repaired there will be a change in travel times.
He said: "We have retimed our Weymouth boat so instead of going out in the early afternoon it is going out on Sunday evening.
"There is a service provided, we are getting everybody back from their holidays, it is really a question of a retiming rather than a delay. For some the timing of a later night arrival is not convenient."
He said Condor was in talks with the States about ways the island can help the company invest in new ferries as the current fleet is getting old.