Jersey minister gives Plemont development the go ahead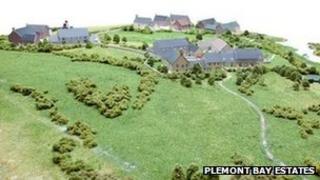 Work could soon start on a controversial housing development at Plemont after the planning minister issued a permit.
Deputy Rob Duhamel said the developers would face a number of conditions.
These include restoring a structure left by German occupying forces, preserving natural habitats and paying for a study into a puffin colony.
The application was subject to a lengthy campaign by heritage supporters.
The plan, by owner Plemont Bay Estates, will see 28 homes built on the beauty spot with 80% of the site returned to nature.
A public inquiry was led by independent inspector Alan Langton in September 2012 over the Plemont application.
Mr Langton recommended the application be approved with a number of conditions.
Deputy Duhamel, gave initial approval for the plans in November 2012 subject to conditions.
Since then he has been in negotiation with the owner over the exact requirements. This has now been agreed so construction is now able to go ahead.
Chief Minister Senator Ian Gorst wanted the States to buy the land and sell it to the National Trust for £3m.
Members voted against the plan 24 votes in favour to 25 against.
Celia Jeune, from the National Trust for Jersey, said at the time she was disappointed a natural site this important would not be restored to nature.