Jersey Co-operative supermarket plans rejected again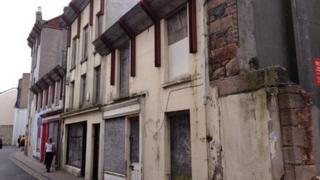 Plans to develop a Jersey supermarket which included demolishing four listed buildings have been rejected again.
The Co-operative Society had plans to build a new store at Charing Cross refused in October due to concerns over the size of the development.
The company revised a second set of proposals to include the restoration of two of the six listed buildings nearby.
That scheme was rejected five votes to one by the planning applications panel on Thursday.
Co-op chief executive Colin Mcleod said the company needed time to reflect on the decision and whether it would apply again.
He said: "We just need to take away, reflect on where we go if anywhere from here, and get back to running a retail business.
"Living without the distraction of Charing Cross for a little while will be welcome."
Five of the six members on the planning panel said they could not support the Co-op plan, with only Deputy Sean Power voting in favour, saying the matter had kept him awake at night.
Deputy Power said: "I felt that until such time as the planning department comes up with a compromise solution that allows a supermarket to be built on this site, I feel the Co-op have been unfairly treated and misled."
Alistair Layzell worked on behalf of Save Jersey's Heritage to halt the development.
He said despite campaigning for an alternative scheme, he felt the Co-op got a raw deal during the planning process.
Principal planning officer John Nicholson said the proposal conflicted with a policy to preserve listed buildings.
He said: "We would like to see this site regenerated, particularly the neglected and dilapidated buildings on Pitt Street and Dumaresq Street.
"While the latest scheme retained two of the listed buildings and would have delivered tangible benefits to the town centre, the proposal conflicts with policies which seek to preserve and protect listed buildings.
"The panel considered too much of the heritage was being taken in this scheme."