Jersey's Wendy Trehiou swims English Channel and back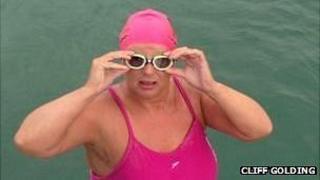 A Jersey woman has become the first islander to swim the English Channel and back in one go.
Wendy Trehiou spent 39 hours in the water to complete the 42-mile round trip.
She was the 26th person to complete the double swim and set herself the challenge after beating breast cancer.
She told the BBC: "It hasn't sunk in yet. I will never do it again... I'll do a one-way but the double is just too extreme."
Ms Trehiou finished the swim shortly after 22:00 BST on Wednesday.
She said: "Whilst I swum 42 miles I did a huge amount more in travelling distance because of the tides.
"[At the end] it took three or four people to get me back on the boat as my arms were dead."