Huelin-Renouf liquidators hope to sell freight shipping service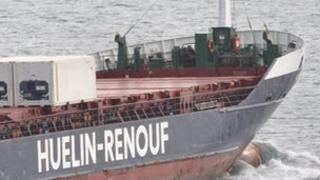 The liquidators appointed to oversee the insolvency of Channel Islands shipping firm Huelin-Renouf say its freight service may continue.
Accountancy firm Grant Thornton was appointed by the Royal Courts of Jersey and Guernsey earlier this week to oversee the firm's insolvency.
It described it as "complex and multi-jurisdictional" and warned the outcome was unpredictable.
However, it said other firms could be ready to take on the freight operation.
In a joint statement, the firm said redundancies could be reduced through competing companies employing staff.
The firm, which stopped trading on Tuesday, employed 40 people in Jersey and another 50 in Guernsey, Southampton and Cherbourg.
Bruno Kay-Mouat, the managing director of Alderney Shipping, said: "We hope to pick up some of the freight. Other carriers will obviously pick up the remainder."
Another Channel Islands ferry operator, Condor Ferries, has already committed to transporting freight in the short-term, in order to mitigate disruption.
In addition, it was announced on Tuesday that the Ports of Jersey would operate a simple port to port lift-on/lift-off freight service until a private company could be found to establish a permanent operation.
The Grant Thornton statement said customers whose goods were being held at Huelin-Renouf's warehouses were being contacted in order to arrange onward shipping.