Jersey States offers free parking during bus strike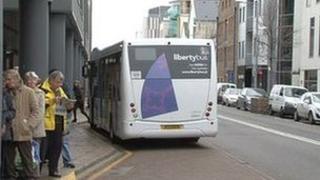 Paid parking will be suspended in some parts of St Helier when Jersey bus drivers strike later this month.
More than 60 staff will not be working for two days from Thursday and for three days from 27 August in protest at a driver's dismissal.
Lay-bys one to five, from West Park to the west of First Tower, and Pier Road multi storey car park will be free.
Deputy Kevin Lewis, Minister for Transport and Technical Services, said the aim was to "minimise hardship".
Liberty Bus, which operates services on the island, is planning to run some routes with a skeleton staff using non-union workers and drivers from its depots in the UK.
Details are due to be published on its website on Wednesday.
Deputy Lewis said: "Of course I'd like to see as many passengers as possible accommodated on the buses that will be running during the strike, but it will not be a full service and a proportion of the 18,000 daily passengers will have to find another way to travel.
"Obviously, I hope there will be some who will be able to walk, cycle or get a lift, but I realise for others the only option will be to drive their cars and this unusual measure is really to help them."
The union called for the industrial action in a bid to get a driver, who was convicted of driving without due care and attention, reinstated.