Talks under way to save 90 jobs at Huelin-Renouf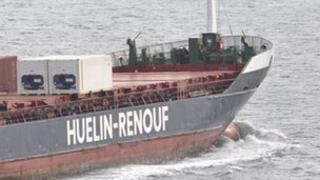 Urgent talks are being held to try to save the Channel Islands shipping company Huelin-Renouf from closure.
The business employs 40 people in Jersey and another 50 in Guernsey, Southampton and France.
Talks have been held this week to try to secure a future for the company.
Senator Alan Maclean, Jersey's economic development minister, confirmed his department had been approached by the company for help.
"A working party was put together of senior representatives from Treasury, Economic Development and the port of Jersey to look at ways in which we may be able to assist the company with its challenges," he said.
Competitive environment
Senator Maclean said the company's directors had been working hard to save the company and he was hopeful it would be able to secure a long term future.
"We stand ready to do whatever we can in order to assist those discussions," he said. "It's very important that we have a competitive environment for the island's freight."
Huelin-Renouf was founded in 1935 as Channel Island Services Limited, to handle sea freight for builder and produce merchant J W Huelin.
In 1972 it amalgamated with J G Renouf, the Jersey shipping agents, brokers and road hauliers.
It now operates two ships and runs daily services between the Channel Islands and the UK.
In April it announced it was halving its weekly deliveries to Alderney.
The BBC has been unable to contact the directors of the company.
Senator Maclean said he expected further announcements to be made in the next few days.