Jersey bus firm Libertybus brings in drivers for strike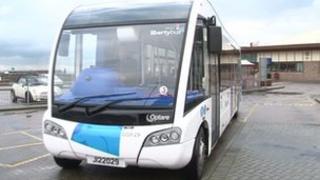 The Jersey bus contractor Libertybus has announced it will bring in extra drivers to provide services during a forthcoming strike.
The company described the drivers as volunteers from across the wider HCT Group, of which Libertybus is a part.
More than 60 drivers will withdraw their labour for two days from Thursday and for three days from 27 August in protest at a driver's dismissal.
The driver was sacked after a passenger fell out of a bus and on to a pavement.
The Unite union has claimed the driver had been inadequately trained and there was a fault with his vehicle.
Libertybus has denied this and said the industrial action is unacceptable.
'Any means necessary'
The case is due to be considered by an employment tribunal.
General Manager Kevin Hart said: "If Unite cannot be brought to reason, then we will provide whatever service we can on strike days by any means necessary."
He said the company would support those Jersey drivers who did not agree with the strike, to ensure they could go ahead with their work.
Nick Corbel, the regional secretary for Unite, said he was concerned the phrase "any means necessary" could indicate Libertybus was preparing to ignore work permit legislation, which has recently been tightened.
He also questioned the wisdom of allowing drivers with no knowledge of Jersey routes or driving conditions to carry passengers around the island.
However, Mr Hart said: "Our operation will comply with all Jersey regulations and law and we are taking practical steps to ensure safety and familiarisation."
He said the drivers would be drawn from HCT Group's 12 depots around the UK and he did not anticipate any of these being from Guernsey.
Transport and Technical Services Minister Kevin Lewis called for islanders to mitigate the effects of the strike.
"When we had the snow earlier this year, there was a great community spirit and people helped each other by providing lifts which took the pressure off the skeleton bus service," he said. "I hope that this will happen again during the strike."
Senator Ian Le Marquand, the acting chief minister, condemned the planned strike.
"The bus service in Jersey exists for the benefit of the people of Jersey and visitors to Jersey," he said. "It does not exist for the benefit of - nor is it managed by - either the union leadership or the drivers."