Jersey bus drivers to strike for five days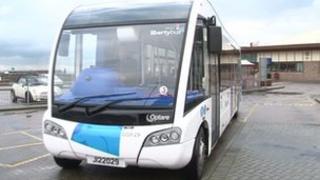 More than 60 Jersey bus drivers will strike for five days this month in a bid to get a sacked driver reinstated.
The strikes, starting and ending at 04:00 BST, will be from 22 to 24 August and 27 to 30 August.
Nick Corbel, Unite union regional officer, said the 66 drivers and five other staff felt strongly about the driver's dismissal.
A spokesman for operator LibertyBus said a tribunal was still to be held and the action was "out of proportion".
He said only 33% of the workforce voted for industrial action and the company would do all it could to minimise disruption during the strikes.
Mr Corbel said: "Our members feel very strongly about this and Unite calls on the company to reinstate the driver before these strikes cause massive disruption to bus services in Jersey."
The bus drivers and other staff had previously voted overwhelmingly, in two separate ballots, for strike action over a decision by LibertyBus to sack two drivers and the imposition of what it claimed were excessive shift patterns.
Mr Corbel said the case of the other driver had been settled and talks about the shift patterns were continuing with the guidance of the Jersey Advisory and Conciliation Service.
Kevin Hart, LibertyBus general manager, said: "Such militancy has no place in Island life.
"Unite are demanding the reinstatement of a driver who pulled away from a bus stop with an open door, which resulted in a passenger falling to the pavement and being injured whilst getting off the bus.
"The driver was subsequently convicted of driving without due care and attention.
"It would have been irresponsible of us not to have taken appropriate disciplinary steps."