Jersey politicians call to nationalise shipping firm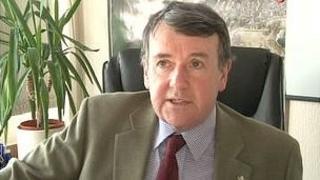 Jersey's government should take control of struggling freight company Huelin-Renouf, according to an island politician.
Deputy Sean Power said saving the company should be a priority as it provided a vital link for the Channel Islands.
Senator Alan Maclean, Economic Development Minister, said the States might help on a short-term basis.
He said he did not think government should own the company.
The minister said he would make details of any plan to help the firm available in the next few days.
'Strategic link'
"All the options are being considered. It is a strategic link. Approximately 25% of the freight is handled by Huelin-Renouf," he said.
The company employs 40 people in Jersey and another 50 in Guernsey, Southampton and Cherbourg.
It operates a "lift-on lift-off" freight service with containers taken off the ship with large cranes.
Senator Maclean said: "It is difficult for governments to run businesses, I don't think that is a good position and the private sector is where the expertise is.
"We will do all we can to support the process and hope a private sector organisation or investor can become the salvation."
In a statement Huelin-Renouf said the company was in a "challenging and delicate position".
It said: "Every opportunity to secure this lifeline service continues to be worked on in the interests of the public, and the aim is to achieve this in the near future."
Senator Maclean said the company brought in the majority of the island's building supplies and the building industry could struggle if it went under.