Oil spill shuts roads in St Helier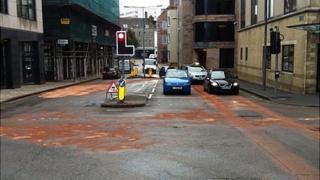 An oil spill that shut a number of roads in St Helier earlier is believed to have come from just one vehicle.
Jersey Police said the spill caused "major disruption" during the morning rush hour.
Grit was put down on the Esplanade, Conway Street, Castle Street, Seaton Place and Commercial Street, which all reopened by 08:10 BST.
Officers said the oil was thought to be the cause of two motorcyclists falling off their bikes on the Esplanade.
There were also been a number of minor accidents in the affected areas, which caused further traffic delays.