Jersey's General Hospital could get temporary theatres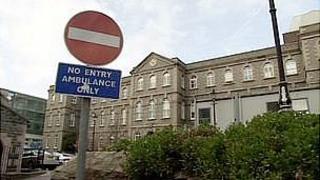 Two temporary operating theatres could be built at Jersey's General Hospital in a bid to meet increased demand.
The plans submitted to the Department of the Environment are part a 10-year scheme for the hospital's theatres.
Helen O'Shea, hospital managing director, said: "The existing theatre block is now over 30 years old and in need of refurbishment."
The temporary theatres will allow operations to continue while the upgrade is carried out.
Mrs O'Shea said: "Demands for planned surgery are growing, and we need to increase capacity in order to meet this."
The project aims to increase the number of theatres from four to six, which includes the maternity theatre, with four of them meeting the standards needed for complex or high-risk surgery.
Deputy Anne Pryke, Health and Social Services Minister, said: "If we are to continue to meet the growing demand for operations in Jersey, and ensure that we do that with appropriate and modern facilities and equipment, then it is vital we take this project forward."
If approved, the temporary theatres will be built on the Gloucester Street car park, attached to the main theatre suite at the hospital.