Jersey telecom company staff asked to give up phone books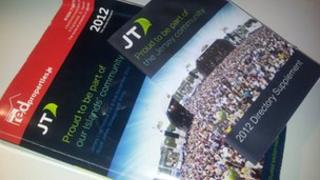 Telecom company JT is offering staff an incentive to hand back their phone directories after printing too few.
Workers are being told they will get a credit on the company's rewards site worth £10 if they give up their books.
The government-owned company printed 54,000 copies of the Channel Island book, 1,000 fewer than usual.
The company contacted people in Grouville and St Clement in Jersey apologising and saying they would not get a 2013 phone book.
JT said the reduction was to reduce wastage and that it was urging customers to go online instead.
The book includes phone numbers and a yellow pages directory for advertisers.
Stonemason Matthew Thebault said he was disappointed his message would not get to as many people as expected.
Mr Thebault paid extra to feature in the phone directory's "tried and tested" section and said the shortage could affect trade.
In a statement, JT said: "We underestimated the number of directories we would need this year. For that we apologise."