Call for Jersey road safety review after cyclist death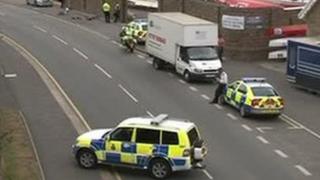 A road safety review should be carried out in Jersey after the death of a cyclist, the deputy home affairs minister has said.
Neil Andrew Blood, 42, from Stoke-on-Trent, was visiting the island with his family when he collided with a Ford Transit Luton van.
It happened at about 13:15 BST on Wednesday outside the old La Folie pub near Mount Bingham.
Senator Lyndon Farnham said he wants checks to see if a pattern is emerging.
Mr Blood was treated at the scene by paramedics but was pronounced dead a short time later.
Police said the van driver was being treated as a significant witness.
Wednesday's incident was the third serious crash involving a cyclist this year.
Paul Channing, 45, died after a crash at Beaumont Hill in May and another cyclist was seriously injured in the same area in July.
Senator Farnham said: "I will be asking for a meeting with the chiefs of the relevant emergency services so I can better understand the statistics and see if there is a pattern to these very sad events.
"It could be that we are just having a very unfortunate run of bad luck but I think as society is changing there are many more people using bikes and there are more cars on the roads.
"I want to join up the dots and see if there is something we can do."