Jersey bus drivers set strike date for 20 August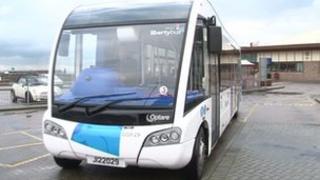 Jersey bus drivers are to strike on 20 August in a dispute over shift patterns, it has been claimed.
Their union, Unite, said it had tried many times to discuss grievances with the bus company.
But LibertyBus, which runs the island bus service, called Unite's attitude "astonishing" and said it had never been approached to discuss shifts.
Union representatives and the operator are to meet on Thursday. LibertyBus said it hoped to avoid strike action.
Unite say the decision to strike was over shift patterns and a decision by LibertyBus to sack two drivers.
A bus company spokesman said: "They are using strike action as a first resort, rather than a last resort.
"It is frustrating in the extreme that we and the travelling public of Jersey are treated with such contempt.
"To be clear, there is only one driver seeking reinstatement and to reiterate on the matter of shifts, Unite have not approached LibertyBus on this issue."
The company said 51 members of staff out of 154 voted, which works out as 33% of the workforce.
Unite has so far refused to comment on the date of the strike action.