Jersey golf course fire: 'Warning' given to boys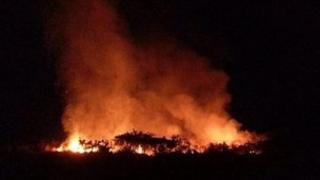 Two boys who admitted starting a fire at the Royal Jersey Golf Course which is thought to have killed the only cirl buntings in the island have been given a police warning.
Officers say the boys, who can not be named, did not set off the firework with any intention to cause harm.
Naturalists say it destroyed the only nesting site in Jersey of the rare sparrow-sized cirl bunting.
The island's only breeding pair were believed to have nested in the area.
Dr Glyn Young from the Durrell Wildlife Conservation Trust said since the fire neither of the birds have been seen.
Police say the landowner was happy for the teenagers to simply be given strong words of advice.