Jersey orangutan baby named 'KeaJaiban'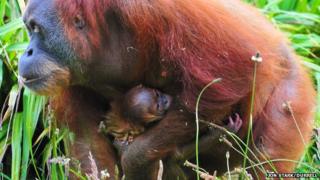 The most recent Sumatran orangutan to be born at Durrell in Jersey has been named KeaJaiban, which means miracle in Indonesian.
Her mother Dana gave birth last month in what was billed as "a miracle of science" by her keepers as she was only able to conceive after surgery.
The name was chosen after the wildlife trust ran a competition in which people made a donation to enter a suggestion.
Her keeper Gordon Hunt said they would shorten the name to Kea.
He said: "It was difficult to narrow it down for sure, there were hundreds of suggestions, some we raised an eyebrow at but others we thought were very nice."
World's most endangered
Mr Hunt said Kea's birth was "miraculous" as Dana's previous pregnancy in 2009 resulted in a stillbirth and she nearly died.
It left Dana with unable to conceive due to blocked fallopian tubes.
However, Jersey General Hospital's head obstetrician, Neil MacLachlan performed surgery to enable her to conceive with 27-year-old Dagu.
The Sumatran orangutan is one of the world's most endangered great apes.
The most recent estimates suggest there are just over 6,500 left in the wild and conservationists believe they are under a growing threat because of the large scale destruction of their natural habitat.