Jersey States elect Jeremy Macon as reform chairman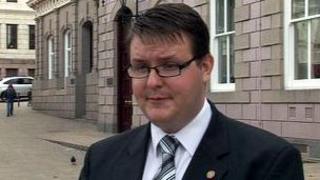 Deputy Jeremy Macon has been elected chairman of the committee responsible for introducing political reform to Jersey.
He will replace Constable Simon Crowcroft who resigned after failing to get approval for reform plans.
He beat Constable Julliette Gallichan and Senator Lyndon Farnham to the post.
Senator Farnham went out in the first round, receiving nine votes. In the second round Constable Gallichan got 23 votes to Deputy Macon's 27.
'Ashamed'
A referendum in April put three options to the public - two to change the system and one to maintain the status quo.
Islanders supported a move to abolish the office of senator, reduce the number of politicians in the States.
The winning option received 8,190 votes in a 26% turnout of registered voters.
Constable Crowcroft wanted the results of the non-binding referendum introduced.
But States members voted 28 to 21 against implementing the reforms on Tuesday. Constable Len Norman abstained from the vote.
After that rejection Deputy Sean Power, a member of the campaign group for the winning referendum option, said: "Absolutely miserable and mortifying performance and vote by the States. I am ashamed to be in this chamber though my conscience is clear."
Constable Crowcroft said he did not feel he could continue in his role after the vote was lost.
He said: "I listened to the [referendum] outcome. It was a clear mandate for change and to say otherwise means you give more value to people who don't vote than to people who do."