Jersey crime down by 21% says police report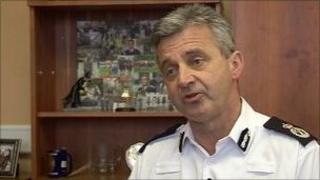 Crime in Jersey dropped by 21% in the first half of 2013 according to the States of Jersey police.
Chief Officer Mike Bowron said this continued a trend with the 2012 police report showing a 4% drop in crime.
The largest proportion of crime was acquisitive, covering theft, burglary and financial crime, but this was down 9% on 2011.
In 2012 there were 3,833 reported crimes which compared to 3,976 reported in 2011.
Hardworking officers
Mr Bowron said: "I feel incredibly proud of what the States of Jersey Police has achieved in the past few years.
"I have the pleasure of working with a great team of professional and hardworking officers and staff and I believe the statistics reflect that attitude.
"However, we are far from alone in what we do and as an island we benefit from the tremendous support from our Honorary Colleagues as well as our many other partners so we must thank them as well."
He said it was the lowest level of crime since the States of Jersey Police adopted national crime recording standards.
The report gives a detailed breakdown of all areas of police work and shows that burglary and youth crime have also continued to fall in the first half of 2013.