Yacht hits Ecrehous rocks off Jersey after propeller failure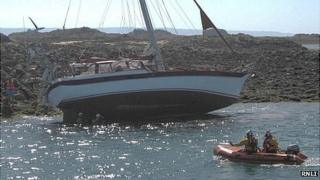 A British yacht was towed to safety after it lost power and hit rocks near the Ecrehous reef off Jersey.
The propeller of the 13m (43ft) yacht became fouled, causing the loss of propulsion and steering, and it struck the rocks on a falling tide.
The five people on board sent a distress call, which was answered by both of Jersey's lifeboats just after 14:30 BST on Thursday.
Once the tide had turned, the yacht was refloated and safely moored.