Bishop of Winchester apologises to Jersey 'abuse victim'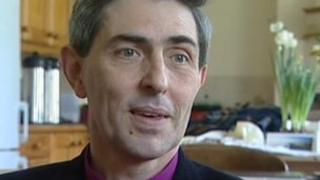 The Bishop of Winchester has apologised to the woman at the heart of an abuse complaint inquiry involving the Anglican Church in Jersey.
The Right Reverend Tim Dakin said he had given a "personal and direct apology" to the woman known as "HG".
The Dean of Jersey, the Very Rev Bob Key, was temporarily removed from office for allegedly mishandling her complaint about a church warden.
The Church has ordered an inquiry into the handling of the case.
Dean Key was suspended for seven weeks after an independent report found he had not dealt with the complaint against the church warden in accordance with guidelines.
Bishop Dakin has previously refused to speak about his apology to the woman, on the grounds he felt any comment from him could influence the independent inquiry.
But a spokesman for the Bishop said he "has now been in contact and made a personal and direct apology to HG".
There will now be a full-scale inquiry, led by former Bishop of Chelmsford John Gladwin and Dame Heather Steel, an appeal court judge.
It will also look at the constitutional relationship between Jersey's church and the Diocese of Winchester.
Bishop Gladwin is due to publish his report later this year.
The States of Jersey Police and Hampshire Constabulary investigated the allegations of abuse in 2008 and found there was insufficient evidence to proceed.