Jersey regulator concern over telephone network change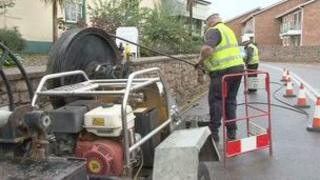 People may not be able to make home phone calls during a power cut when Jersey's telecoms system is updated according to the regulator.
Telecom company JT is removing copper cables from the ground and replacing them with fibre optic ones.
In future electricity will be needed to make a landline phone call.
The Channel Islands telecom regulator says it is working to ensure it is still possible to make a phone call during a power cut.
Big project
Andrew Riseley from the Channel Islands Competition Regulatory Authority said it was an issue it was exploring with JT to determine if landlines will be usable when the copper network is phased out.
Mr Riseley says the worst case scenario will involve relying on mobiles.
Dave Newbold, from JT said this was Jersey's biggest public infrastructure project since the current telecom network was installed.
He said: "Ultimately the current copper network will be decommissioned, so it is absolutely vital that islanders respond to our letters and make an appointment, so that we can ensure their broadband service continues."
As part of the change customers will be asked to allow engineers to switch their system to the fibre optic network or risk losing their home internet connection.
There were a number of power cuts in 2012 and early 2013 due to a fault with an underwater cable connecting the island to the French power grid.