Jersey States makes nurses new pay offer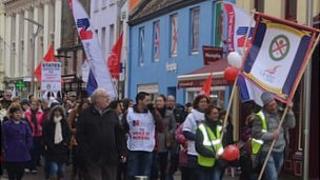 Nurses and midwives in Jersey have been offered a revised pay deal, which includes moves to develop a new pay structure.
A States Employment Board spokesman said it had the support of the three unions in recommending the offer.
It offers 4% rises for this year and 2014 with a backdated 1% rise for 2012.
Kenny McNeil, chairman of the Jersey branch of the Royal College of Nursing, said nurses would be balloted on the new offer next week.
Negotiations have been ongoing for more than a year and last month the parties met with the Jersey Advisory and Conciliation Services.
Mr McNeil said it had been a long and difficult process and he had been disappointed by delays, but it was a slightly more improved offer.
He said: "We would like as many of the nurses to respond to the offer as possible."
He said there should be a result to the ballot by mid-July.
The States Employment Board spokesman said it had recognised a long-standing discrepancy between what nurses and midwives were paid in comparison with other non-medical Health and Social Services staff.
The original offer of 3% in 2013 and 4% in 2014 was rejected by the unions and a protest march was held February.
Chief Minister, Senator Ian Gorst, said the offer was part of moves to improve patient care and he was "satisfied that we have reached the best offer that can be achieved during this pay round".
Health and Social Services Minister, Deputy Anne Pryke, said: "We are committed to closing the pay gap for nurses and midwives, and would hope to do so within the lifetime of the next Medium Term Financial Plan."
The next three-year budgeting scheme for the States will cover the period 2016-2018.