Jersey minister says 'no money' despite balanced budget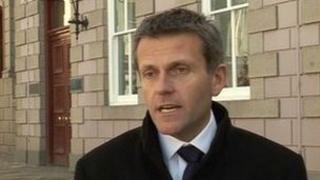 Despite balancing Jersey's accounts last year, the treasury minister says there is no extra money to spend.
The States received £627m from tax and other sources in 2012, which was £15m more than predicted.
Senator Philip Ozouf said the States also spent £15m less than the £600m originally approved.
He said the tight control of purse strings would continue though as there was no more money to spend on pay awards and short-term projects.
'Uncertain world'
Senator Ozouf said there were also good returns on States investments, significantly boosting reserves.
He said: "We have got a very strong balance sheet and as a small island in a very uncertain world we need to keep that balance sheet.
"Because investment returns have been strong, that doesn't mean to say the only way you can pay for an increased pay award is by selling some of those investments.
"The wage settlement for States employees is not just one year, it is every year afterwards and you can only sell assets once."
Civil servants were offered a pay rise of 1% for 2013 and 2014 and an additional 1% lump sum payment. Chief Minister Senator Ian Gorst said this was "final".
Teachers in Jersey have previously said they were prepared to strike or take other industrial action over the below-inflation pay offer.
The treasury minister said he was confident about the future and says big ticket projects such as building a new hospital or replacing the existing one will be possible as long as the States continues to be careful about how it spends money.
Senator Ozouf said the bottom 40% of earners contributed less than 2% of all income for the states and the top 2% contributed more than 40%.