Jersey hospital plans to recruit nurses from Madeira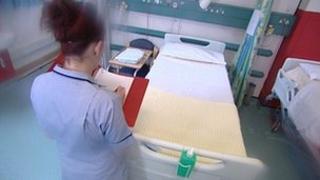 Jersey's Chief Minister is working on an agreement to bring nurses from Madeira to work in the island.
Speaking from Madeira, Senator Ian Gorst said the idea could solve Jersey's nurse recruitment problems.
The minister has been in talks with officials as part of his two-day visit to the Portuguese island.
Kenny McNeil, from the Jersey branch of the Royal College of Nursing, said they welcomed plans to recruit from Madeira.
He said it made sense to look to places with strong links to Jersey.
Mr McNeil said: "Jersey is a very diverse and multicultural society and has very strong links with Portugal and Madeira, with a lot of Madeirans already having made the island their home."
Senator Gorst said "We have a difficulty in Jersey in recruiting nurses and here in Madeira we find they have the reverse problem.
"They have got a very strong training centre and programme and very strong English language skills as well."
Earlier this week Jersey's Hospital Director Helen O'Shea met with Madeira's health authorities.
Jersey's Health Minister, Deputy Anne Pryke said: "Recruitment and retention of a highly skilled nursing workforce is essential to the future of healthcare in the island."