Jersey beekeeping restrictions are lifted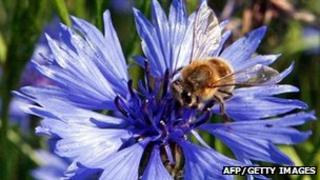 Restrictions on beekeeping have been lifted after a reduction in a destructive bee disease in Jersey.
Jersey's environment department introduced the restrictions in June 2010, when tests confirmed American Foulbrood in the island.
Beekeepers had to stop all movement of hives and equipment and destroy all infected combs and bees.
Now, Environment Minister Deputy Rob Duhamel, has signed an order to lift the controls.
However, there is a small number of hives where the disease has been found this year, still under those restrictions.
A spokesman for the environment department said: "At the request of island beekeepers, [the order] keeps in a requirement introduced in 2010 that anyone who owners a hive must register with the department if they haven't already done so."
Four years ago about a fifth of Jersey's bees were wiped out by American Foulbrood, and entire colonies were destroyed before the disease was discovered.