Jersey 'store your own food' warning issued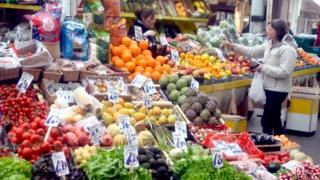 Jersey's harbour is the way almost all of the island's food supplies get in, but imagine something happened to stop boats from docking.
This scenario might sound unrealistic but it is one of the biggest concerns of Jersey's emergency planning officer, especially when it comes to food security.
Jersey has no central food supplies, the government has no warehouse and the supermarkets bring food in as necessary.
This is why the man responsible for managing emergency situations, Michael Long, said people should manage their own emergency food supplies.
However, Mr Long does not think a situation like this would be likely.
He said: "If there is an emergency impacting on the island, we will get help from neighbours in the UK and France."
Jersey's Chief Minister, Senator Ian Gorst, said the States was constantly reviewing food storage policies.
He said: "I can confirm that the government does not hold emergency supplies of food and has not done since the era of the Cold War.
"Food stocks are distributed across several island suppliers each with different level of storage capacity, from shops to warehousing and cold storage.
"Jersey is not alone in this situation and it is a consequence of current retail and distribution factors that most of the western world now relies upon 'just-in-time' deliveries. This is the situation we have to manage."
Mr Long added: "A rule of thumb is there is probably two to three weeks worth of stocks across all the retailers."
After a long spell of no rain in 2011 the island was faced with the prospect of having to import water by tanker.
Senator Gorst said islanders should have a supply of water available at home.
Food rations
"The advice from the emergency planning officer to keep four to seven days' supply of food and bottled water is sensible, particularly for an island community that has recently been affected by severe weather and other emergencies that could prevent the just-in-time deliveries of food to the island," he said.
But he said the biggest issue in a crisis would be how to distribute food stocks held by private companies.
Under Jersey's emergency planning legislation there is the ability for the States to take control of all the food and ration it as required.
However, Mr Long said it was unlikely Jersey would be cut off long enough for this to be considered.
"The biggest issue we would face in Jersey would be a blockage in the harbour, if boats couldn't get in we would struggle getting food supplies in, but even then we could get help from outside the island," he said.
Environmental campaigner Dr Mark Forskitt said Jersey thinks too short term, and argues there are longer-term issues around food security.
"The big issue is future planning in a world of nine billion where land and climate water scarcity have reduced production," he said.
"It takes time to train farmers/market gardeners and a whole different approach when fertilizers and pesticides cannot be had."
Mr Forskitt said he was concerned about the lack of space in new homes for storing food.
He said: "I was talking to an architect the other day and a key issue she pointed out is modern builds have minimal to no storage space. How much food can people living there store?
"We have effectively lost common land rights which might have seen people through scarcities in times past; the responsibility has passed to the States in that respect, and yes they should warehouse basic supplies."