Jersey chapel closes due to lack of Catholic priests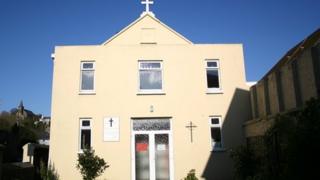 The Catholic church in Jersey is to close a chapel in Gorey as there are not enough priests to provide services.
The Gorey chapel was opened and dedicated to Our Lady of the Assumption in 1954.
The chapel, with a congregation of about 40, will close on 19 May to coincide with the retirement of Father Brian Sanderman.
There are eight Catholic churches in the island including two within three miles of Gorey.
Monsignor Nicholas France, the Catholic Dean of Jersey, said: "I thank Father Brian for the way he has devotedly cared for those who have attended our Gorey Mass.
"However, as each Sunday, in our churches across the island, we celebrate Mass for a few hundred people, and usually many more, we cannot justify mass for a congregation of only 40 people on average."
He said the other Catholic priests on the island already have three or four masses to celebrate for different congregations each Sunday.
He said the church had no plans to close any other chapels, but after review it was decided Gorey was the only one they could not sustain.
Originally built as a congregational Chapel the building served as a small cinema for Gorey Village before becoming a Catholic chapel in 1953.
Monsignor France said the church had not decided what to do with the building yet.
Father Brian Sandeman is retiring aged 85, he was ordained in 1993, at the age of 65 after the death of his wife, former senator Jane Sandeman.
After his ordination he worked mainly in the east of the island.