Dean of Jersey is reinstated after apology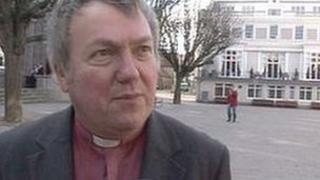 The Anglican Dean of Jersey has been reinstated after apologising for the way he handled an abuse complaint.
The Very Reverend Bob Key was suspended in March by the Bishop of Winchester, who oversees Jersey.
His suspension came after an independent report found he did not follow policy over a complaint about a church warden's behaviour in 2008.
Earlier the dean conducted a service in St Helier Parish Church, also known as Town Church.
Dean Key said: "I regret mistakes that I made in the safeguarding processes and I understand that, upon reflection, it would have been more helpful if I had co-operated more fully with the Korris [safeguarding} Review.
"I now add my own apology to that of the Bishop of Winchester and Archbishop of Canterbury to the vulnerable person at the heart of this matter.
"Together, the bishop and I are committed to the importance of safeguarding children and vulnerable adults in Jersey and to working to ensure the safeguarding procedures of the diocese achieve this as part of the whole church's mission."
The Bishop of Winchester, the Right Reverend Tim Dakin, said: "Safeguarding must always be of paramount concern and is a vital part of the Church's mission.
"At the heart of this matter is safeguarding the vulnerable who have frequently been let down by the church.
New investigation
"The dean's apology is a welcome one... I am also glad the dean has promised his full cooperation with these inquiries.
"We all have important lessons to learn."
The original complaint made to the church in 2008 concerned the alleged abusive behaviour of a churchwarden.
The States of Jersey Police and Hampshire Constabulary investigated the allegations at the time but found there was insufficient evidence to proceed.
The Bishop of Winchester has since launched a new investigation, led by former bishop John Gladwin, to review the implementation of safeguarding in Jersey and across the diocese.
It aims to provide recommendations for enhancing policies and procedures.
It will look at how vulnerable people are looked after, how appointments are made, how clergy are disciplined and how the deanery is governed.