Durrell and Aardman team up for dodo film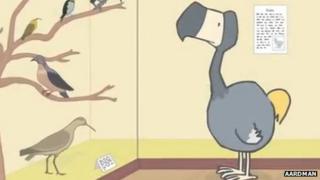 The makers of Wallace and Gromit have teamed up with staff from Jersey's Durrell Wildlife Park to create a film about endangered animals.
The four-minute animation, called The Lonely Dodo, features the voices of Stephen Fry and Alistair McGowan.
The film, about a dodo searching for another of his species, was produced by Oscar-winning animator Aardman.
Staff at Durrell said they hoped the film would reach more than 250,000 people over the next year.
A spokesman said the aim was that those who watched it on the website, The Lonely Dodo would be inspired to support Durrell by signing up to a giving programme.
Alistair McGowan, who voices the dodo in the film, said: "It's not often one is asked to become a dodo, especially given that we already know how that story ends.
"Durrell exists to make sure that it doesn't go the same way for other endangered species, so I became their dodo to help spread that message.
"Glad to say that I'm still here, and it was actually rather fun, despite the seriousness of the subject."
Stephen Fry, whose voice also features in the animation, said: "We know that currently there are more species either in the process of becoming extinct or in grave danger of doing so, than ever before in the history of man.
"I wholeheartedly support the work of Durrell as they aim to inspire young hearts and minds to empathise with, and thus care for, the plight of endangered species."
Hugh Roberts, Durrell's chief executive, said the film could be its most successful fund-raising campaign.
He said he hoped people who saw the film would be encouraged to support the charity's conservation work.
'Great opportunity'
He said: "Extinction, saving species and the dodo are all really emotional pulls to aim at a younger audience, one that I think is naturally in tune with conservation and wanting to look after the world for the future.
"It really gives us a great opportunity, especially with a company like Aardman which is well known for Wallace and Gromit and other brilliant animations."
The film was directed by Matthew Walker from Aardman.
He said: "Durrell had this original idea of the lonely dodo for the film, so it is very much about this dodo trying to find out if he is the only one left.
"So it really ties into what they are trying to do in preventing extinction of endangered animals and obviously the dodo is such a well-known extinct animal... so it made a nice mascot for their message."
When developing the concept for the film, brand agency TheFrameworks said it aimed to strike at the heart of what the conservation charity stands for.
'Devastating effect'
David Alexander, senior designer at TheFrameworks, said: "We were moved by footage of the Last Tasmanian Tiger, lonely and resigned to extinction.
"Pairing this idea with the dodo, which is central to Durrell's brand and a symbol of extinction, led us to the concept of The Lonely Dodo."
Mr Roberts added: "Gerald Durrell was enormously aware of the effect mankind was having on other species with which we share this planet.
"He realised that without intervention the loss of species would continue with a devastating effect to life on Earth.
"Gerald sadly died in 1995, but his message continues to be extremely topical and important."