Jersey magistrate Ian Christmas loses fraud appeal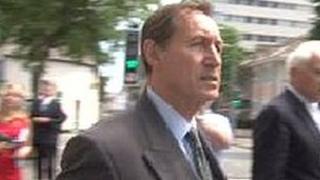 A former assistant magistrate who defrauded an investor has lost his appeal against his conviction and sentence, at Jersey's Court of Appeal.
Ian Christmas is serving 15 months in prison after committing fraud in a United States property investment scheme.
The £100,000 investment was used to pay off debts.
Three former financial advisers, Russell Foot, James Cameron and John Lewis also lost their appeals.
Cameron did however get his conviction for one of his 16 counts of fraud overturned, but not his appeal on his sentence.
Foot, Cameron and Lewis are serving four-and-a-half year prison sentences.
During the trial last year, the court heard the four men had been involved in a property purchase in the United States but had defrauded a number of investors to help settle debts.
Earlier this month, Christmas was ordered to pay an investor he defrauded £100,000 in compensation.
Cameron's advocate Timothy Hanson, said: "The hearing in the Court of Appeal took seven days and the arguments raised on appeal were diverse and often complex.
"On behalf of Mr Cameron, we are obviously delighted to have succeeded in part of his appeal and will be scrutinising the judgment with great care to see whether or not it would be appropriate for the matter to be taken to the next appeal stage."