Jersey reform referendum: No minimum turnout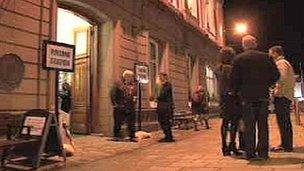 Jersey politicians have decided not to set a minimum turnout threshold for next week's reform referendum result.
Deputy Jeremy Macon wanted 40% of islanders to vote before the results were used, but 31 States members to 13 voted against it.
St John Constable Phil Rondel wanted a 51% turnout but 36 to seven voted against it.
Islanders are being asked to vote in a referendum on reforming the structure of Jersey's government on 24 April.
During the debate, Jersey's Economic Development Minister said the government should be concentrating on getting the economy back on track rather than holding a referendum and discussing reform.
Senator Alan Maclean said he thought there would be a low turnout at the referendum as it had failed to capture the imagination of the public.
However Deputy Montfort Tadier warned against being negative about the process.
He said: "There are new people out there who are getting excited about the referendum and they can see there are simple ways to affect change.
"Lets not talk this referendum down before we even know what the results are, and lets get out there and encourage people to vote."
The referendum choices include two options for change and one to maintain the status quo.
Option A will see 42 deputies elected from six large voting districts.
Option B will have 30 deputies elected from six districts and 12 parish constables.
Option C will maintain the status quo of eight senators elected island wide, 29 deputies in a range of constituency sizes and 12 parish constables.
Related Internet Links
The BBC is not responsible for the content of external sites.