Grand National winner Corbiere on Jersey stamps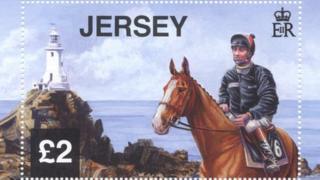 A Grand National winning horse named after a famous Jersey landmark has appeared on a new set of stamps.
Corbiere won the Grand National in 1983 by three-quarters of a length.
The horse, named after the Jersey lighthouse, was jockeyed by Ben de Haan and was the first Grand National winner to be trained by a woman, Jenny Pitman.
Melanie Gouzinis from Jersey Post said Corbiere was remembered with so fondly that his death in 1988 was reported on BBC news.
She said: "Corbiere was owned by Bryan Burrough, the great grandson of the First Lord Trent, Jesse Boot, founder of Boots the chemist.
"Jesse Boot had married a local girl, Florence Booth and together, they gifted significant park and recreational land to the people of Jersey."
She said Jenny Pitman, Bryan Burrough and Ben de Haan were all delighted to help with the research for the stamps.
'Big white blaze'
Mr Burrough provided photographs which were used for artistic reference and Ms Pitman wrote the text for the envelopes and presentation packs.
Mr Burrough said: "The horse had a big white blaze so it also seemed appropriate to name it after a lighthouse.
"We took Corbiere over to Jersey to see the lighthouse and parade at the racecourse, however as you can imagine on a windy day with a restless horse the photo is not perfect."
The stamps have been painted by artist Nick Watton.
Ms Pitman said Corbiere was "not the fastest by any means but with an undeniable strength of character, he was as brave as a lion and his enthusiasm for life warmed your heart on the bleakest winter day."
"His exuberance out at exercise, bucking and kicking at the end of a morning's work as he made his way back home from the gallops, required the patience of a saint and his devoted rider, Gary Curran, pandered to his every whim.
"No horse I've trained loved life more than Corky," he said.