Jailed former magistrate must pay investor compensation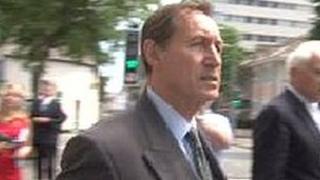 A former assistant magistrate has been ordered to pay an investor he defrauded £100,000 in compensation.
Ian Christmas is serving 15 months in prison after defrauding an investor in a property investment scheme. The money was used to pay off debts.
Three other men were also convicted and sent to prison.
On Monday Jersey's Royal Court ordered Christmas to pay £60,000 to an investor within 28 days and £40,000 within a year or face a further year in prison.
During the trial last year, the court heard the four men had been involved in a property purchase in the United States, but had defrauded a number of investors to help settle debts.
Former financial advisers Russell Foot, James Cameron and John Lewis were also found guilty in the case and received prison sentences.
The four men are appealing their convictions.