End of VAT relief causes 800 jobs losses in Jersey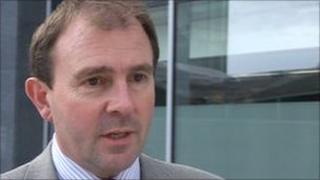 The end of VAT relief has led to about 800 job losses in Jersey, says the economic development minister.
Senator Alan Maclean said it was difficult to ascertain exactly the full effects of the loss of Low Value Consignment Relief (LVCR) one year ago.
He said the job losses and business closures were likely to be quite substantial for Jersey.
States figures show firms in Jersey which package and send goods lost 250 staff in the first six months of 2012.
LVCR allowed low value goods under £15, such as CDs and DVDs, to be sold VAT-free to the UK from the Channel Islands.
It was introduced by the UK Treasury in 1983 to help speed up the transit of low-value goods, which may have otherwise been delayed by customs.
Guernsey and Jersey's governments took legal action in the UK High Court to challenge the decision to scrap it, but failed.
'Drastic action'
In January, Jersey-based online retailer Play.com blamed the end of LVCR for the closing down of its retail business.
Meanwhile Jersey Post said it had had to adapt to survive.
Kevin Keen, the chief executive of Jersey Post, said: "The withdrawal of LVCR... has had a dramatic impact on our business as it has on the rest of the island.
"Bulk mail accounted for around half of our mail volumes and these are now running around 70% lower than the same time last year."
He said Jersey Post took "drastic action" to reduce costs and cut staff by 6% in 2012 and had to increase prices, but it meant the company remained profitable.
However Senator Maclean said low value goods were still arriving in the UK but from other countries.
He said: "The interesting thing is, a year on, the UK is seeing exactly the same volumes of low value items coming in, but from elsewhere.
"So one does question what the purpose was and what the motivation was to actually do it. It is very disappointing."