Dean of Jersey suspended by Bishop of Winchester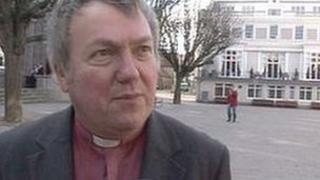 The Anglican Dean of Jersey has been suspended over concerns about his handling of a parishioner's complaint.
The Bishop of Winchester earlier withdrew the commission of the Very Reverend Robert Key following the publication of a diocesan report.
The Safeguarding Panel found there were failures in the implementation of policies in relation to a complaint by a vulnerable adult parishioner in 2008.
The complaint concerned the alleged abusive behaviour of a churchwarden.
A statement from the diocese said the bishop, the Right Reverend Tim Dakin, would begin an investigation to examine "an apparent failure to take the complaint seriously, a perceived lack of neutrality, poor communication and lack of action".
"I want to give my unreserved apologies to the complainant for her treatment," he said.
"Protecting the vulnerable is at the heart of the Church of England's mission. With that comes a duty to ensure those in need are properly looked after.
"It is vital that robust safeguarding policies are in place and, above all, that they are properly implemented."
Mr Dakin said he was particularly disappointed the Dean of Jersey had "refused to cooperate with the review".
Mr Key was not available for comment.
The States of Jersey Police and Hampshire Constabulary investigated the allegations in 2008 but found that there was insufficient evidence to proceed.
The diocese has sent the police a copy of the independent report.