Jersey politicians agree to hold a referendum on States reform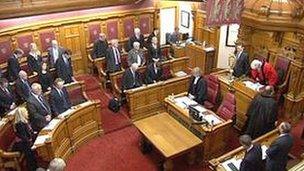 After nearly two days of debate Jersey politicians have voted in favour of a referendum on government reform.
The ballot paper will have three options covering the number or politicians and size of constituency.
The debate included five amendments looking to change the wording of the ballot paper and an attempt to make the electoral commission look again.
Members voted 37 in favour to 12 against the plan to hold a referendum on 24 April.
The referendum sets out three questions including two options for change and one to maintain the status quo.
Option A will see 42 deputies elected from six large voting districts.
Option B will have 30 deputies elected from six districts and 12 parish constables.
Option C will maintain the status quo of eight senators elected island wide, 29 deputies in a range of constituency sizes and 12 parish constables.
Related Internet Links
The BBC is not responsible for the content of external sites.